Exhibitors need to put in significant effort, give proper time and make constructive plans to organize a successful exhibition. You must complete detailed planning, to-do checklists, vendor meetings, and other important things in advance, specifically months or weeks before you start working on the venue. You need to understand all the risks of not being able to organize a proper exhibition.
However, for your exhibition to be considered successful and for you to make a profit from it, you must take all the necessary precautions and complete all the important steps. This will ensure that your audience or consumers will find your exhibition to be appealing.
You can follow some necessary standard steps to organize a successful exhibition. However, there is no such way that guarantees a hundred percent success every time. However, you can enhance the chance of the success of your exhibition by following these steps:
Understand The Need of Your Audience and Prepare Accordingly
Take proper time to identify your possible audience and understand their need for products and services at the exhibition. So, choose the all-ideal solution accordingly for the exhibition to present your service to the target audience properly. Prioritize these solutions and focus on products, crate massaging of your exhibit and solve problems of attendees altogether.
Identify Possible Reasons for The Exhibition and Prioritize
There are many possible reasons to exhibit:
New product promotion
Collection of qualified leads of sales
Corporate brand enhancement
Audience awareness and Education
Clint relationship enhancement
Organize business meeting
Press and other media coverage
Recruit dealers or distributors or representatives or employees
Conduct comparative or market research
educational season attendance
So, choose your top reasons and prioritize them and focus on other reasons as well.
Fix Strategic and Measurable Goals for Exhibitions 
Exhibitors must anticipate the attendance, the exhibition run time, the size of the exhibition, and the budget of the exhibition and set realistic goals according to their percentage. Determine the process of measuring success when the exhibition ends before you start exhibiting.
Identify Your Services or Products
The addition of the word "New" has a significant impact on the floor of the exhibition. Many customers are drawn in by newly introduced services or merchandise. Exhibitors must display pertinent samples only if they have many services or products. Make sure the attendees of your exhibition don't pass or walk through your services and use those displays to experience these.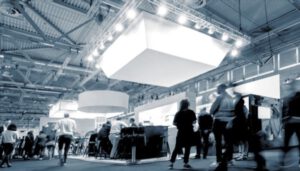 Design A Functional, Uncluttered, And Attractive Exhibit
Make your exhibit inditing and keep it open. You must free 80% of the space of the aisle and not block it with walls, counters, and exhibit staff of surplus. Use trendy design, colour, and inviting lights to attract as much as traffic you can. Then engage these attendees with creative presentations, in-hand demos, productive lectures, and other professional ways.
Use Impactful Graphics That Promotes Your Services or Products
Exhibitors must use large and colourful graphical posters and speed bumps that are visually inviting and convey their message and showcase their product's goal properly. Effective and inviting graphics can attract any attendee's attention within a few seconds while they are walking past your booth, and it attracts them to your service or product.
Promote Through Pre, At, And Post-Show
There are a few attendees that are most wanted for many reasons, so try to be proactive and creative while you are attracting to stop them on your exhibits. Exhibitors must conduct pre and at-show campaigns to increase the number of qualified attendees and post-show will attract their attention even more to their services and products.
Train The Exhibit Team Properly
Sometimes exhibitors throw unprepared stuff on, and they fail to attract traffic.  The team struggles in these cases as it is not their regular work or natural environment. Therefore, it is important to train them appropriately so that they can discuss the objectives, verities, and advantages of the product or service with attendees in an appropriate manner, as well as understand the attendees' choices and suggest products and services based on the attendees' interests. Proper training can teach them how they can start and end conversations with consumers in an ideal manner to attract their interest.
Motivate The team
This exhibition needs absolute hard work so exhibitors motivate the team in many ways so they can put in the necessary effort to bring success to this event. Alternate the shifts, provide them with a short rest in between the shows, and encourage them even further by providing awards, as well as additional special rewards, for reaching specific compilation goals.
Conclusion
If you are an active exhibitor but unable to organize any successful exhibitions even after a few attempts, then you must change your approach. Follow the above-mentioned points properly to increase the success rate of your upcoming exhibition.