Hiring an electrical contractor is a crucial task that requires careful consideration. Whether it's for a new construction project, a home renovation, or regular maintenance and repair work, you will want to ensure that you choose a professional who is competent, reliable, and trustworthy. So, what should you look for when hiring an electrical contractor? This article will discuss the top qualities that define a good electrician and guide you through the process of finding the right one for your needs.
Professional Qualifications
The first thing to look for in an electrical contractor is their professional qualifications. A good electrician will have undergone rigorous training and should be able to demonstrate a high level of technical knowledge. They should be familiar with the latest electrical codes and regulations and should have the necessary skills to carry out all kinds of electrical work, from simple repairs to complex installations.
Experience and Expertise
Experience is another key factor to consider. An experienced electrician will have a comprehensive understanding of the complexities of electrical systems and will be able to tackle any challenges that may arise during the course of the work. Additionally, they will also have a proven track record of delivering high-quality services, which is a clear indicator of their expertise.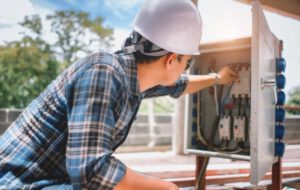 Licensing and Insurance
Always ensure that the electrical contractor you are considering is licensed and insured. A licensed electrician will have met the necessary standards set by the state, and an insured electrician will have coverage for any potential damages or injuries that may occur while they are working on your property.
Recommendations and Reviews
Another important factor to consider is the reputation of the electrical contractor. Look for recommendations from friends or family or check online reviews. A contractor with a strong reputation will typically have a long list of satisfied customers, and positive reviews can give you a good idea of the quality of their services.
Good Communication Skills
Good communication is key in any professional relationship. A good electrical contractor will be able to clearly explain the work that needs to be done, provide you with a detailed estimate, and keep you updated on the progress of the project. They will also be able to answer any questions you may have and will be responsive to your needs and concerns.
Pricing and Transparency
Pricing is a crucial factor to consider when hiring an electrical contractor. A good electrician will provide you with a detailed, written estimate that includes the cost of materials, labor, and any other expenses. They will also be transparent about their pricing and will not have any hidden fees.
Availability and Responsiveness
When dealing with electrical issues, time is often of the essence. A good electrical contractor will be available to respond to your needs promptly and will be able to provide you with timely and efficient services.
Safety Standards
Safety is paramount when it comes to electrical work. A good electrical contractor will adhere to the highest safety standards and will take all necessary precautions to ensure that the work is done safely.
Conclusion
Hiring an electrical contractor is an important decision that should not be taken lightly. By considering the factors discussed in this article, you can ensure that you choose a contractor who is not only competent and experienced, but also reliable, trustworthy, and committed to delivering high-quality services. Remember, your safety and the success of your project depend on the qualifications and expertise of the electrical contractor you hire.
In the end, the choice of an electrical contractor can greatly impact the safety and functionality of your home or business. Therefore, it's essential to make an informed decision and choose wisely.